House Management - Chapter 168:
Chapter 168: Hua Yunong impressed by Zhang Yu
"No need, that's it." Zhang Yu said quickly.
"Then touch it." Hua Yu Nong said.
Zhang Yu also knew that he definitely had to touch it now, and he first reached out and sent Hua Yunong's hair that was spilling down his back to the front. Then it turned out that Hua Yuneng was not really that generous, this woman's neck was all red, apparently she was also shy, just pretending to be indifferent.
This also shows that she is really bent on going down.
Zhang Yu began to feel up the neck successively, hands slowly down.
Just as Zhang Yu discovered, Hua Yunong is really so much on her lips, and she is really shy in her heart.
Even if it's a mixed race, it's embarrassing to be touched like this by a man who has only met three times. Moreover, although Hua Yunong's mother is English, she received most of the Eastern education, and she was embarrassed in her heart.
Hua Yunong was a bit nervous and shy, especially when Zhang Yu's hand touched her skin for a moment, she couldn't help but shiver. But soon, she found that Zhang Yu's touch was very comfortable, a comfort that was far better than a massage, something she had never felt before.
Under Zhang Yu's touch, her nervous heart slowly calmed down and enjoyed the feeling more and more.
"Uh ……"
Without paying attention, a moan actually came out in her mouth.
It's good that she immediately realized that she lost her temper, and her upper and lower lips hastily bit into one place to keep herself from making any more sound.
"This is also not a massage ah, how so comfortable?" Hua Yu Nong muttered in her heart, enjoying herself to no end.
After more than ten minutes, Zhang Yu had already touched her waist up to her tailbone. Just a little further down, he would be able to touch the buttocks.
Hua Yu Nong's figure is extremely good and her buttocks are big, not at all below Xiao Jiejie's, but even more so.
But Zhang Yu did not continue to touch down, but withdrew his hand. When Zhang Yu's hand left, Hua Yunong could not help but have a feeling that she was not done yet.
"How come it's over so soon……" She muttered in her heart, followed by a burst of fire in her cheeks, immediately cursing herself, is it so under-touch ah.
Hua Yu Nong thought Zhang Yu should say what the situation is, but after waiting for a moment, she did not hear Zhang Yu out. She turned her head in wonder, this turn, it is difficult to take half of the body turned, the full front, deep outline directly in front of Zhang Yu's eyes.
But Hua Yu Nong did not notice this, because she found Zhang Yu's face stony and could not help but be a little nervous. But she was in a good frame of mind and asked with a deliberate smile, "What's wrong? Haven't you touched enough?"
Only then Zhang Yu reacted and hurriedly said: "No ……"
"Then what's wrong? Why your face is so serious?" Hua Yunong asked with another smile.
"I didn't touch it." Zhang Yu said solemnly.
"Why haven't you touched it?" Hua Yunong felt a little bad, then she smiled flirtatiously and said deliberately, "Then what next? Where else do you want to touch?"
"It's enough to touch here." Zhang Yu hurriedly said, "It's just that your destiny is too strange. If it were someone else, let's not say that you can find out the good fortune and good fortune right now, even in some future situations, you can also get a rough idea. But you…I can't not only feel the life and death of the present, but also the future. Your fate is totally unpredictable."
"So that's how it is." Hua Yunong did not doubt Zhang Yu's words and laughed again, "Anyway, life and death are destiny, wealth and prosperity are in heaven, do you have the guts to accompany me to go down and have a look."
Zhang Yu hesitated for a moment, his six senses were so good that he could feel the unpredictable danger in the tomb just above. Old man Wang said that a fortune-teller can only count others, not his own. To get a fate through words, this time going down is unpredictable. But through the black Qi on Hua Yu Nong's Hall of Seal, it is simply nine deaths.
Half a long time later, Zhang Yu said, "Going down now, I am not sure."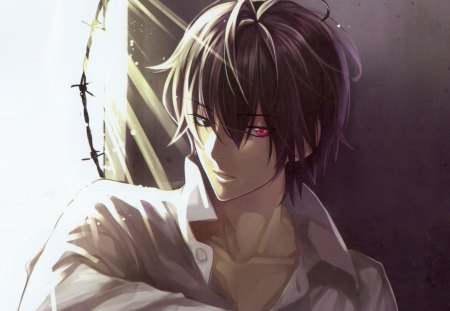 "Then when will there be?" Hua Yunong asked.
"After getting the Jian Yan Yuan Bao, I might be able to have a few certainties." Zhang Yu said solemnly.
He had heard his master say that in many ancient tombs, in order to prevent tomb robbing, not only would they set up mechanisms, but they would even set up formations.
When encountering such a situation, having a powerful magic weapon would definitely enable a few more points of certainty.
"What does it have to do with this?" Hua Yunong did not understand.
"You will know when the time comes." Zhang Yu said.
"Good, then let's go find that Fang Tao now." Hua Yunong said, sat upright and raised her hand to look at the car window.
As soon as her body sat upright, the pair of bound fierce weapons were completely exposed in front of Zhang Yu's eyes.
Zhang Yu could not help but be embarrassed for a moment, and was busy turning his head to the side and said embarrassingly, "That …… Did you put your clothes on first ……"
Seeing Zhang Yu's embarrassed look, Hua Yunong smiled brightly instead and said, "It's hot, what's the hurry to put it on. Anyway, you've seen it, so let's do it. You want to see it more clearly?"
She was still in the mood to flirt with Zhang Yu.
"No, it is not necessary ……" Zhang Yu said.
This kung fu, the female driver has got into the car, she did not say anything, just quietly sitting in the driver's seat, waiting for the words to get a command.
Hua Yunong said indifferently, "Go to Donghua Hospital."
The female driver directly kicked the gas pedal and drove away.
Hua Yunong once again looked at Zhang Yu, saw Zhang Yu still craning his head, not daring to look at her, she said with a smile, "What's wrong?"
"You put your clothes on first." Zhang Yu said.
"How many men want to look at it but still cannot see it, you are a good boy, you don't even look at me. By the way, how old are you?" Hua Yunong smilingly asked.
"Twenty-two years old." Zhang Yu said.
"Still a virgin boy, right?" Hua Yunong teased again.
Zhang Yu did not expect Hua Yunong to ask such a question and was still a bit embarrassed.
When he didn't answer, Hua Yunong laughed and said, "It looks like it's true! Let me tell you, you have to hurry up, in England and Wales, if a man can't say goodbye to his virginity at the age of eighteen, it is a very humiliating thing."
"I …… I'm not in a hurry ……" Zhang Yu came up with this sentence.
"Let's take a look, you're shy. By the way, Fang Tong is a pretty good girl. She shouldn't have had a good time with a man. You two are quite suitable. Do you need any help to impress her? You get on with her as soon as possible." Hua Yunong laughed again.
"No, no need ……" Zhang Yu said in a hurry.
The more she looks at Zhang Yu, the more interesting she is, so she is interested in Zhang Yu, and that huge pair almost fits on Zhang Yu's body.
She raised her hand and gently wrinkled Zhang Yu's face and said with a delicate smile, "Do you think I'm pretty?"
"You are beautiful." Zhang Yu said with embarrassment.
Except for the female elders and the little aunt in the family when he was a child, his face has not been pinched by anyone. I have only met Hua Yunong for a few days, and I started to do it when I came up.
"My sister doesn't have a boyfriend yet, can you be your sister's little boyfriend?" Hua Yunong teased again.
"No!" Zhang Yu immediately shouted.
If you want to share and earn points please
login
first
Buy Coins for Indian Buyers
MY READING HISTORY
You don't have anything in histories
Comments for chapter "Chapter 168: "
MANGA DISCUSSION